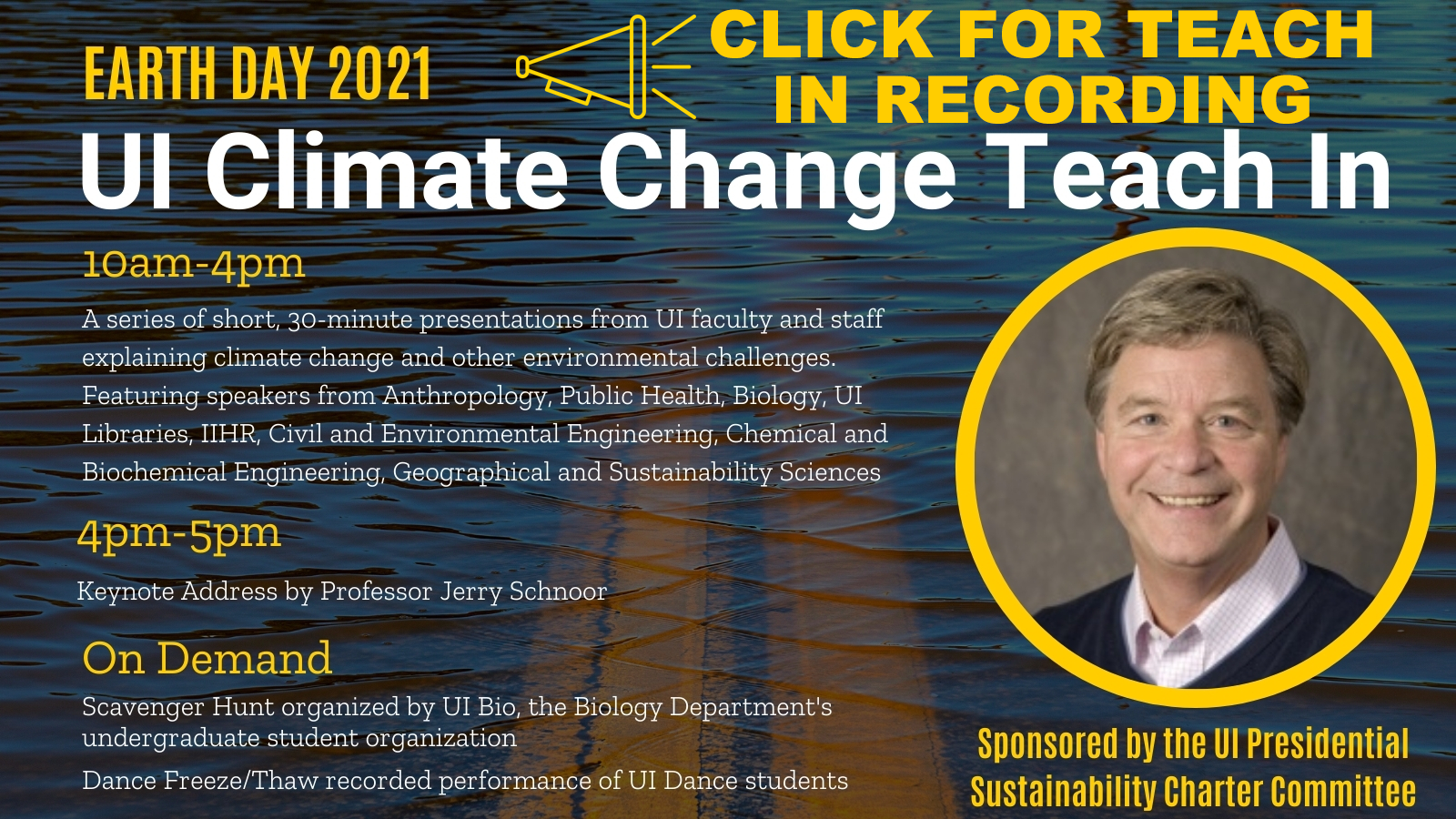 The Sustainability Charter Committee is organizing a Climate Change Literacy Teach-In, to be held on Earth Day, April 22, on campus. Professor Jerry Schnoor, Civil and Environmental Engineering, will provide a keynote address.
Earth Day Climate Change Teach-in Schedule

 

10am-4pm:

Virtual: 

uiowa.zoom.us/j/96174108064

A series of short, 30 minute presentations from UI faculty and staff explaining climate change and other environmental challenges.  Featuring speakers from Anthropology, Public Health, Biology, UI Libraries, IIHR, Civil and Environmental Engineering, Chemical and Biochemical Engineering, Geographical and Sustainability Sciences

10:00

Manure Matters

Chris Jones, IIHR -Hydroscience and Engineering

10:30

The tree of life: what we know and why it matters

John Logsdon, Biology 

11:00

Climate Science & Policy: Navigating the Flood of Information

Laurie Neuerburg & Brett Cloyd, Libraries

11:30

Mitigating Climate Change is the Greatest Health Opportunity of our Century

Peter Thorne, Public Health

12:00

What does climate change mean for our water resources?

Dave Cwiertny, Civil & Environmental Engineering

12:30

Climate Quiz: A Fun Interactive Quiz to Test and Expand Your Climate Knowledge

Charlie Stanier, Chemical & Biochemical Engineering 

1:00

What your 

bathtub

 (yes, I said bathtub!) can teach you about climate change

Michelle Scherer, Civil & Environmental Engineering

1:30

Lessons from the past: using archaeology to examine key human-environmental relationships

Matt Hill, Anthropology 

2:00

Nearly 40 years of Iowa renewable and sustainable energy policy: the nation's first renewable energy mandate was passed in 1983 in Iowa

David Osterberg, Occupational and Environmental Health

2:30

Health Benefits of a Healthy Landscape Campus

Dave Brown, UI Landscape Services 

3:00

How did CO2 get locked up in fossils in the first place?

Erin Irish, Biology

3:30

The status of the Paris agreement in 2021

Silvia Secchi, Geographical and Sustainability Sciences 

4pm-5pm: Keynote Address

Jerry Schnoor, Civil and Environmental Engineering

On Demand Events:

Scavenger Hunt organized by UIBio, the Biology Department's undergraduate student organization
Bingo cards on Club's Instagram

Dance 

thaw | phase




recorded performance of UI Dance students

 
(See at events.uiowa.edu)
---
You may also enjoy this #ThrowbackThursday-worthy schedule of events from the first such Teach-In, 51 years ago, on our campus. Feel free to also peruse the April 22, 1970 Daily Iowan Earth Day edition.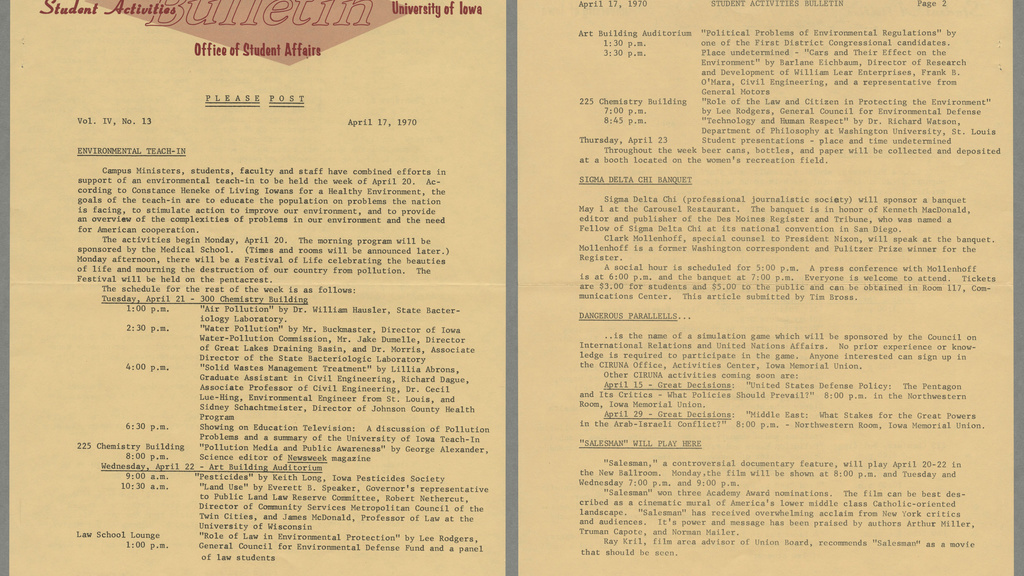 ---
Celebrating the History of Earth Day at the University of Iowa