"The most important issue of the 21st century."

President Bruce Harreld on sustainability
"Sustainability must and will become a central priority of all aspects of our university enterprise—our operations, our academic mission, and our responsibilities to the greater society."

President Sally Mason, Earth Day 2008
UI 2030 Sustainability Goals
The five measurable target goals, drafted in concert with campus partners through the Shared Governance process, are listed here: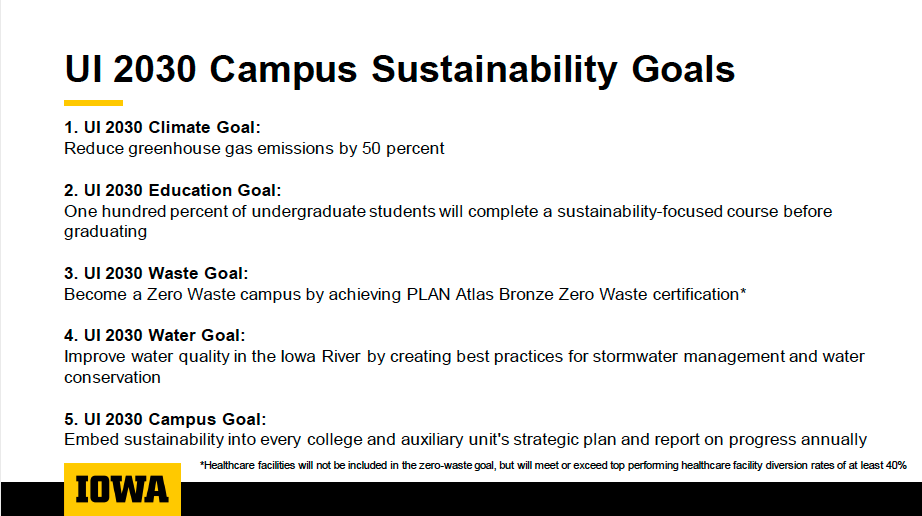 In her 2008 Earth Day speech, President Mason challenged the University community to integrate sustainability deeply into our learning, discovery, and outreach missions. The University of Iowa had set sustainability targets to be met on or before December 31, 2020.
The Sustainability Charter Committee organized a Climate Change Literacy Teach-In held virtually on Earth Day, April 22. Professor Jerry Schnoor, Civil and Environmental Engineering, provided a keynote address.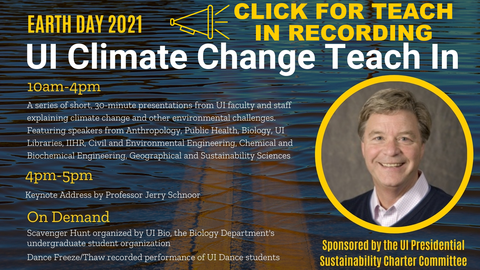 In April 1970, UI students and faculty joined campuses around the nation to address an escalating crisis, writes Old Gold guest columnist Caroline Garske (18BA).
University of Iowa Sustainability Charter Committee 
Socio-environmental Statement 
On May 25, 2020, George Floyd was killed at the hands of Minneapolis police officers. Today, in the wake of this and a host of similar reprehensible acts, we join our community in a long overdue acknowledgment of the racism that is woven into the fabric of this country. We second the Black Lives Matter movement's call to action for reforming the police, the criminal justice system, and society as a whole. The Sustainability Charter Committee believes that it is imperative to speak out against injustice and fully reevaluate how we conduct "business as usual" at the University of Iowa.
As students, faculty, and staff who care about the ability of our planet to support healthy ecosystems for future generations, we must prioritize the integration of social justice into the three tiers of sustainability: people, planet, and profit. We recognize that the systems that exploit our environment are often the same systems that oppress people of color, specifically Black and Indigenous People of Color, in this nation. In order to create a truly sustainable world, we must commit our full support to the fight for social justice.
To take action to reform the current broken system and to advance racial equity in our own institution, we commit to the following:
We pledge to assess the diversity, equity, and inclusion efforts of this committee and to work with appropriate leaders of shared-governance to ensure we are making space at our table for underrepresented voices and retaining their insight and knowledge.

In an effort to further engage the campus in ongoing socio-environmental dialogue we invite other Charter Committees and the overall campus to help us build a more integrated, sustainable, and action-oriented movement addressing institutional and community policies and practices that contribute to or allow further oppression within systems that exploit the environment.

We charge the 2030 Sustainability Goals Subcommittee, as well as our own Charter committee, to address possible inequities in the 2030 Sustainability Goals to ensure that all members of our campus and Hawkeye Community will reap the benefits from these targets. This includes bringing diverse participants into these conversations, committing to the expansion of the Underrepresented Students in Sustainability program, increasing Environmental Justice initiatives through academic work and research, and hiring and retaining BIPOC faculty, staff, and students.

In addition, we charge the 2030 Sustainability Goals Subcommittee with recognizing that the University of Iowa campus is located on what were the homelands of the multiple indigenous tribes. We ask that the subcommittee advocate for and appropriately support the Native American Council in their creation of a land acknowledgment to ensure that these tribes are recognized. As an institution, we must highlight and acknowledge the history that has allowed for the growth of this university by continually building relationships, through scholarships – whether research or financial aid, partnerships, service, and education to further acknowledge the unceded land on which the University sits.

Our final action item is a call on the University of Iowa administration to reflect upon the Iowa City City Council's 17-point resolution of initial commitments as well as similar plans from our neighboring communities to reevaluate the role of policing on our campus and in Iowa City.
We recognize that we have a long way to go and declare this as an ongoing commitment and a priority in our work toward a more sustainable future for everyone in our campus community.
The University of Iowa Acknowledgement of Land and Sovereignty
The University of Iowa is located on the homelands of the Ojibwe/Anishinaabe (Chippewa), Báxoǰe (Iowa), Kiikaapoi (Kickapoo), Omāēqnomenēwak (Menominee), Myaamiaki (Miami), Nutachi (Missouri), Umoⁿhoⁿ (Omaha), Wahzhazhe (Osage), Jiwere (Otoe), Odawaa (Ottawa), Póⁿka (Ponca), Bodéwadmi/Neshnabé (Potawatomi), Meskwaki/Nemahahaki/Sakiwaki (Sac and Fox), Dakota/Lakota/Nakoda (Sioux), Sahnish/Nuxbaaga/Nuweta (Three Affiliated Tribes) and Ho-Chunk (Winnebago) Nations. The following tribal nations, Umoⁿhoⁿ (Omaha Tribe of Nebraska and Iowa), Póⁿka (Ponca Tribe of Nebraska), Meskwaki (Sac and Fox of the Mississippi in Iowa), and Ho-Chunk (Winnebago Tribe of Nebraska) Nations continue to thrive in the State of Iowa and we continue to acknowledge them. As an academic institution, it is our responsibility to acknowledge the sovereignty and the traditional territories of these tribal nations, and the treaties that were used to remove these tribal nations, and the histories of dispossession that have allowed for the growth of this institution since 1847. Consistent with the University's commitment to Diversity, Equity and Inclusion, understanding the historical and current experiences of Native peoples will help inform the work we do; collectively as a university to engage in building relationships through academic scholarship, collaborative partnerships, community service, enrollment and retention efforts acknowledging our past, our present and future Native Nations.
Events
Interested in Sustainability on and off-Campus?
Events
Friday, February 16, 2024 9:00am to 4:00pm
Save the Date: "Implementing the clean energy and climate provisions of the Inflation Reduction Act" panel series will be held in the Boyd Law Building on Friday, Feb. 16, 2024 between 9 a.m. and 4 p.m. We will host panels to discuss updates about the legislation, on the 18-month anniversary of it being signed into law. Connect with the Hubbell Environmental Law Initiative for more information.
Monday, March 18, 2024 12:30pm to 2:00pm
Join the Hubbell Environmental Law Initiative in welcoming LeRoy (Lee) Paddock (77JD) to campus. Lee is the Managing Director of the International Network for Environmental Compliance and Enforcement at the Environmental Law Institute as well as the Distinguished Professorial Lecturer of Environmental Law at The George Washington University Law School. Lee will give a talk on environmental enforcement.
Friday, April 5, 2024 (all day)
Save the date for a panel series discussing "Wetlands Preservation after Sackett v. EPA: Land Conservation and What it Means for Iowa" Follow the Hubbell Environmental Law Initiative for more information.
Frequently Asked Questions
Frequently Asked Questions
Great question! The Office of Sustainability and the Environment serves as such a hub
Each spring the University of Iowa Staff Council Committee on Committees solicits applications to fill staff vacancies on University Charter and Non-Charter committees: watch your email!
Thank you for interest in helping the committee in its mission.
Contact us with any question you might have!